First Time Visitor? Welcome!
You can get a feel for our community by reading through our website, watching our services on [Facebook Live], and you can [Click Here] to sign up for our weekly newsletter.
We are a middle-to-high church diverse worshiping community in the Episcopal Diocese of Maryland. If you are a card carrying Episcopalian, you probably know what that means.
For the rest of us, here is what to expect when you walk through our doors.
You will be greeted by a friendlly usher with a bulletin to help you navigate the worship service. When you enter the worship space, you will see pews with people from around the globe, of various ages, economics, and sexual orientations.
Should you need to use the restroom during worship, there is one in the basement of the church that you can find by walking through the side chapel and down the stairs. A handicapped accessible bathroom is in the parish hall building, next door to the church, on your right immediately after you enter from the covered walkway. Just ask a neighbor in the pew, or an usher, to guide you.
Children
Children are beloved and embraced at St. Mark's. As a "Family-sized Parish," we feel strongly that children are an integral part of worship life, as they soak up the rhythms and rites of the liturgy, music, and prayers. If you are coming to worship with small children, you may want to sit in the back of the church where there are rocking chairs and  a carpeted area for busy little feet to run and crawl, complete with a "Children's Chapel" to help our little ones take part in the service. If you have slightly older children, we recommend sitting towards the front of the church so they can see what is going on. As children grow and express interest, we engage them as readers and acolytes when they feel ready.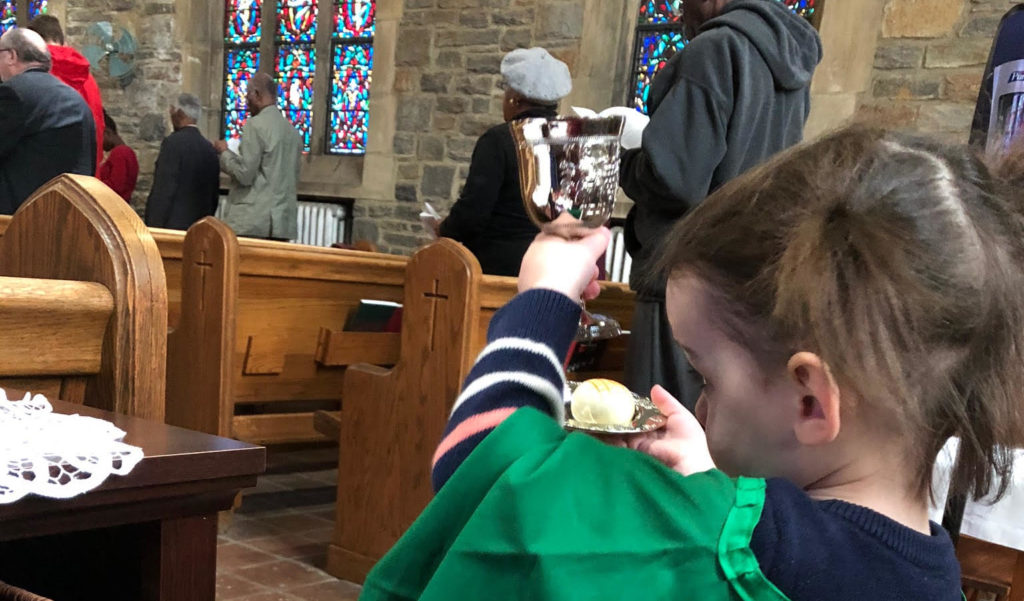 The Books and The Bulletin
When you sit down you will notice four books in the pews: a bible, two different hymnals, and a prayer book. Most of these books are used during worship, however, we endeavor to print enough of the liturgy in the bulletin so that you do not have to wrestle with all four books at once. Hymnal refers to the Hymnal 1982, and LEVAS refers to Lift Every Voice and Sing II.
The Service
Our worship service will include singing, organ music, praying, chanting, scripture, a sermon, and sharing the bread and wine of our Lord's Holy Communion. Depending on the Sunday you worship with us, it may also include incense, baptisms, confirmations, special instruments and musicians, blessings for ministry, and recognition of world events.
We follow the Revised Common Lectionary, a three year cycle of readings appointed for the church year. The scripture readings for each Sunday will be the same as many other faith communities.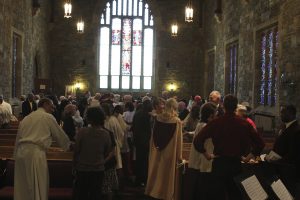 About 3/4 of the way through the worship service we share "The Peace" with one another. In some churches this is a rather reserved experience of shaking hands with your immediate neighbor in the pew, but not so at St. Mark's. You will notice that many people come out of their pews and make an effort to share the peace with people in the center aisle. You are free to enter the mix, or stay in your pew.
Every Sunday we celebrate Holy Communion, the bread and wine that we consecrate and share in remembrance of Christ. All are welcome to receive communion at the altar rail – no one is excluded from the Great Thanksgiving at the Lord's Table. It is traditional for people to be baptized before receiving communion, but sometimes we have discovered that the practice of communion leads people to baptism. Also, there is no age threshold for communion – as soon as infants can eat solid food, they are able to receive the sacraments. If you do not want to receive the bread and the wine, you are welcome to receive a blessing instead. Simply cross your arms over your chest when you stand or kneel at the altar rail, and the priest will bless you.
Fellowship Time
After worship there is some fellowship and/or faith formation opportunity, depending on the time of year. All are welcome to gather for fellowship or formation. This is a great opportunity to get to know others in the church, and let your faith continue to be formed through learning, sharing and conversation.